Link To These Jazz Related Sites & Other Sites Of Interest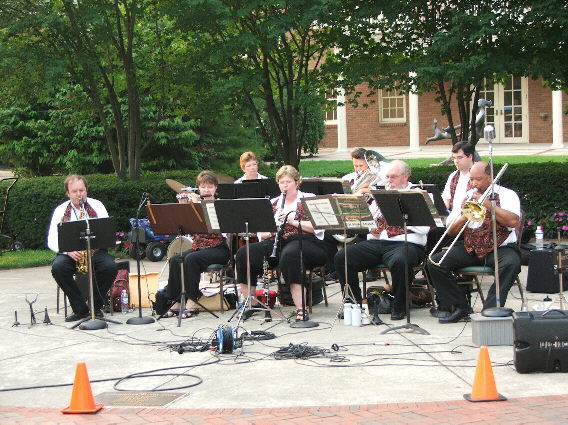 Dr. Tony's Original Ragtime Band performs on the Worthington Village Green in July, 2005. This band presents a very interesting program on the history and progression of ragtime music, from Scott Joplin to modern interpretations. The instrumentation and performance present an accurate picture of ragtime music as it was performed in the teens and twenties. learn more at www.originalragtimeband.com.
Jazz / Musician Web-Sites
Lance Brown Swing & Jazz Info
Arnett Howard A Gifted & talented Musician With A Great Web Site
Central Ohio Hot Jazz Society Sponsoring Hot Jazz concerts with guest musicians and bands
Columbus Senior Musicians Hall of Fame Honoring Great Senior Musicians from Central
Professional Services / Information
Auto & Aviation
5.0 Mustangs, Automobiles, Aviation. New: Rare Vintage Aviation Photos. Flight Simulation.
TICO 2003
VAC Warbird Airshow Photos; March 2003 Titusville, FL. Action Photos Of WW2 Aircraft
Officer Bobs 77 Corvette
See The Purchase & Restoration Of This 1977 L-48
Hotlips Jazz Band, Munich
Munich, Germany Jazz Band
Private Investigator
Expert Private Investigator: Loss Prevention Consultation. Body Guard Services And Investigations
EdVentures Inc. Web-Sites
Discount web-site set-up. Property & Code Compliance Services
Auto Repair
Master Car Care...Honesty is the buzz-word here. Spending less on location, waiting room etc. enables Danny and staff to operate a honest shop! REFERENCES AT REQUEST! Out-Of -Town: Free Phone Opinion / Advice!
DR. TONY'S ORIGINAL RAGTIME BAND