Excerpts and items from the JazzOhio exhibit
This page contains photos and items of and from the exhibit.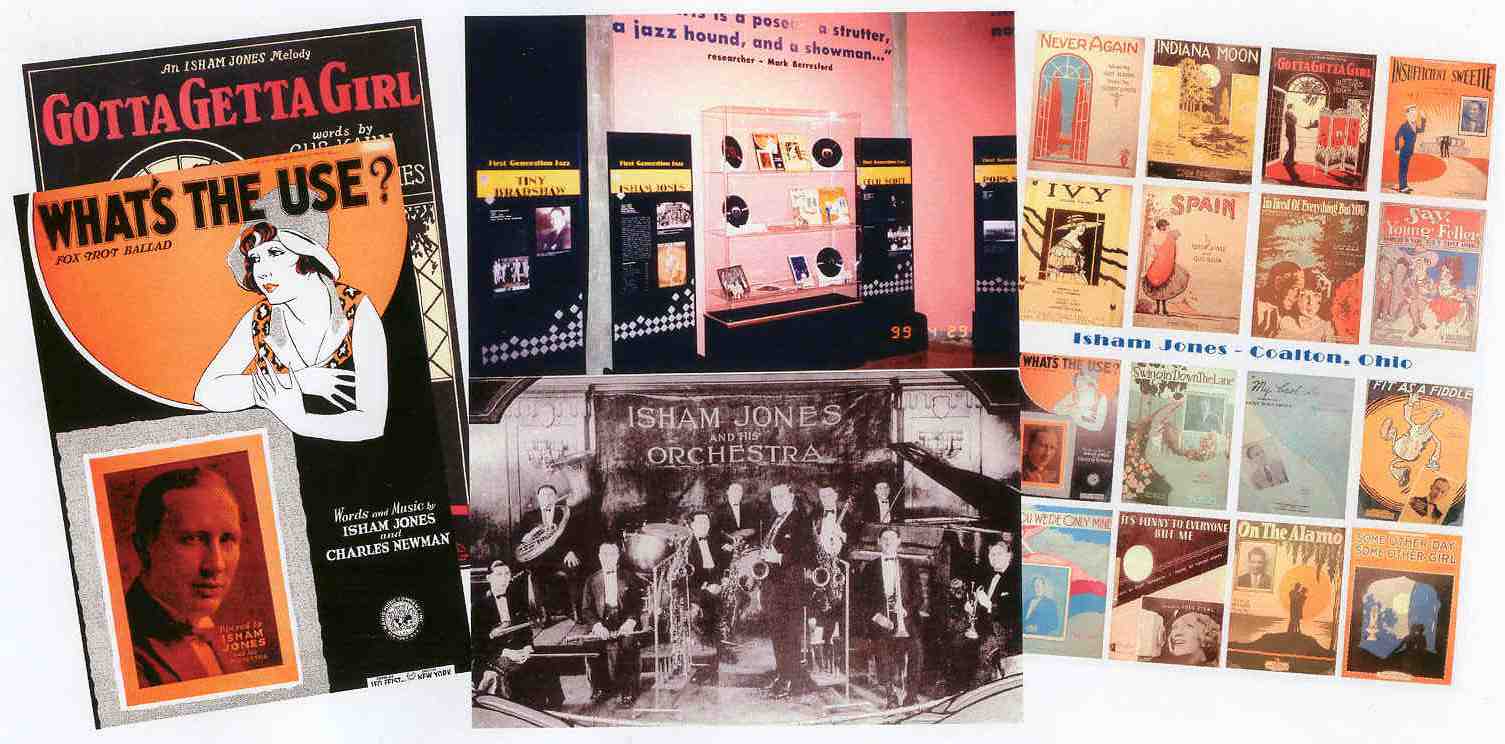 Isham Jones was a very successful early dance band during the "Jazz Age."
Jones was born in 1894 in Coalton Ohio. While his band was very successful, his real talent was in song writing. During a performing and recording career that lasted from 1922 until 1936 his band featured many future jazz stars such as Jack Jenney, Woody Herman and Pee Wee Erwin.
His many song credits include:"Broken Hearted Melody", "I'll See You In My Dreams" (w/Gus Kahn and featured in 5 movies), "It Had To Be You", "It's Funny To Everyone But Me" (w/Dave Franklin, it helped sustain the early career of Frank Sinatra when he was with Harry James), "Ivy, Cling To Me" (w/James P. Johnson), "On The Alamo" (his first big hit), "Spain", "Swingin' Down The Lane", "There Is No Greater Love" (introduced in 1936 with a vocal by Woody Herman), "What's The Use", and "You've Got Me Crying Again." Note that many of these hits were lyricized by the great Gus Kahn.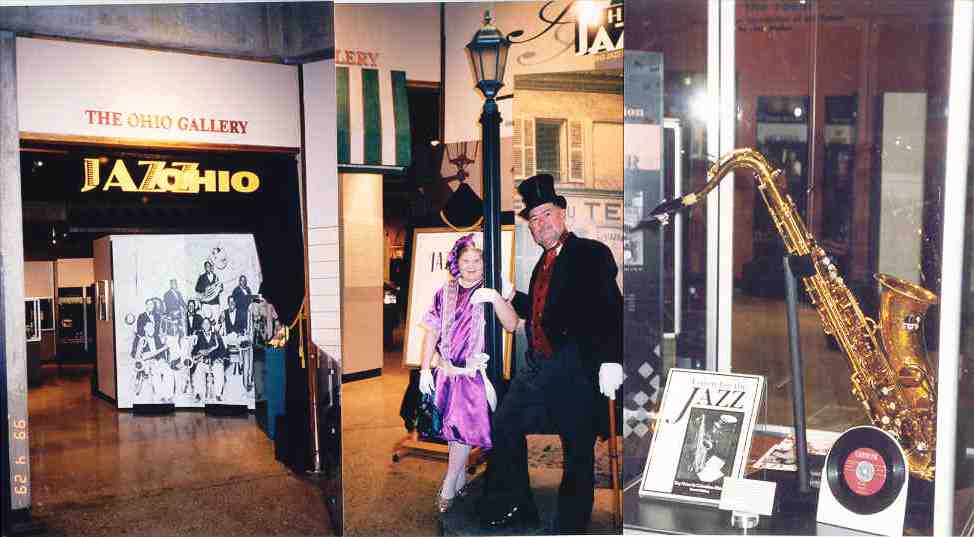 Opening Night at the Museum on I-71 - Hosts and Hostesses in Jazz Age attire!
The Main entrance to the gallery included a large photo of the Clarence Olden Orchestra.
On the right, the display of Rusty Bryant, a giant figure in Ohio Jazz. Included were his axe, a recording of his Carolyn Club Orchestra and a copy of "Listen For The Jazz" a compendium of local jazz history.

A Sign On the Freeway Calls in the Flock
(right) Listening posts throughout the displays gave everyone a chance to hear the artists displayed in the various rooms. This one was a multiple selection box in an area where the volume could be a little higher.
A theatre promotional poster of Olden was accompanied by his violins and stage trunk.

Three Great Ohio Instrumentalists
JOE MURANYI (Martins Ferry, OH 1928) Studied with Lennie Tristano, but apparently preferred traditional jazz. Played dixieland around New York, and formed the Village Stompers. Toured with Louis Armstrong All Stars, then went with the World's Greatest Jazz Band (Yank Lawson.)
RUSTY BRYANT (Huntington, WV 1929)First professional job was alto sax with Stomp Gordon, in Columbus. Gene Ammons gave him a tenor mouthpiece, and in the Navy in Boston profited from hearing the greats. Joined with Tiny Grimes. Opened with his own band at the Carolyn Club. (Nancy Wilson started her career there when only 15!)
JOHNNY LYTLE (Springfield, OH 1932) (Started out as a Drummer with Ray Charles before changing to vibraphone. Led his own groups which included, among others, Johnny Griffin, Frank Wess, and Ron Carter.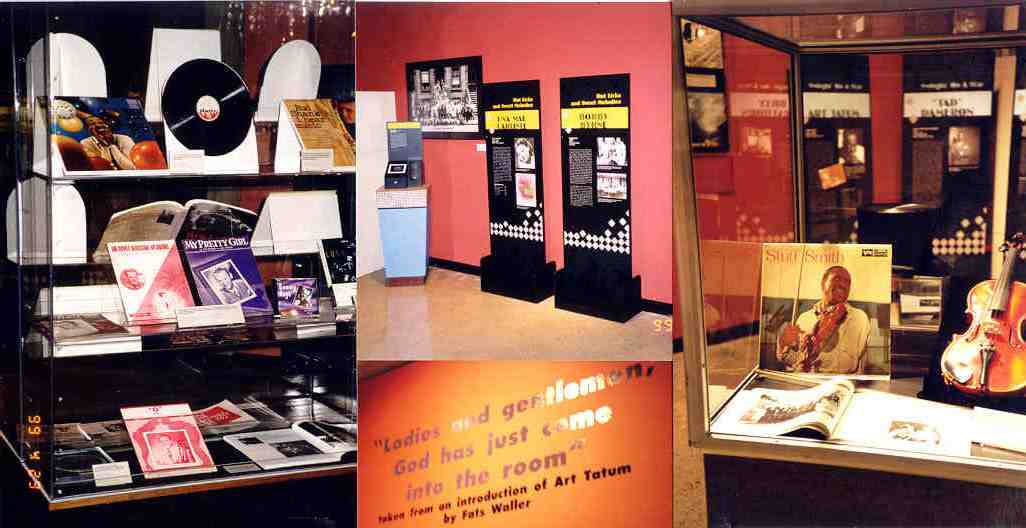 ....God has just come in the room.
We could say that about our favorite Ohio jazz musicians. LtoR, top to bottom:
JIMMY MUNDY (Cincinnati, 1907) Best known for arranging. "Cavernism", Earl Hines - "Swingtime In The Rockies", Benny Goodman - for other leaders: Gene Krupa,Count Basie, Dizzy Gillespie.
SAMMY KAYE (Rocky River, OH 1910) Not considered a "jazz man" (Swing and Sway with Sammy Kaye?) his first band at Frank Dailey's Meadowbrook included Gene Krupa, Roy Eldridge and Teddy Wilson!
UNA MAE CARLISLE, (Xenia, OH 1915-1956) Pianist, composer ("Walkin' By The River") and singer, she was discovered in Cincy by Fats Waller.She recorded under her own name with Lester Young, Benny Carter and John Kirby; recorded with Don Redman and Bob Chester
BOBBY BYRNE (Columbus, OH 1918) A trombone prodigy, Bobby joined Jimmy Dorsey when only 16. Recorded dixieland on Grand Award and played for Pearl Bailey, Cannonball Adderly, Cootie Williams, Charlie Barnet and Lionel Hampton. Became an executive with Command Records.
STUFF SMITH (Portsmouth, OH 1909-1967) recorded with Alphonso Trent and played with Jelly Roll Morton. Began using amplified violin, and led band at the Onyx Club in New York. Led Fats Waller's band after Fats death. His style has been described as "barrelhouse"; neverless he was the epitome of HOT JAZZ!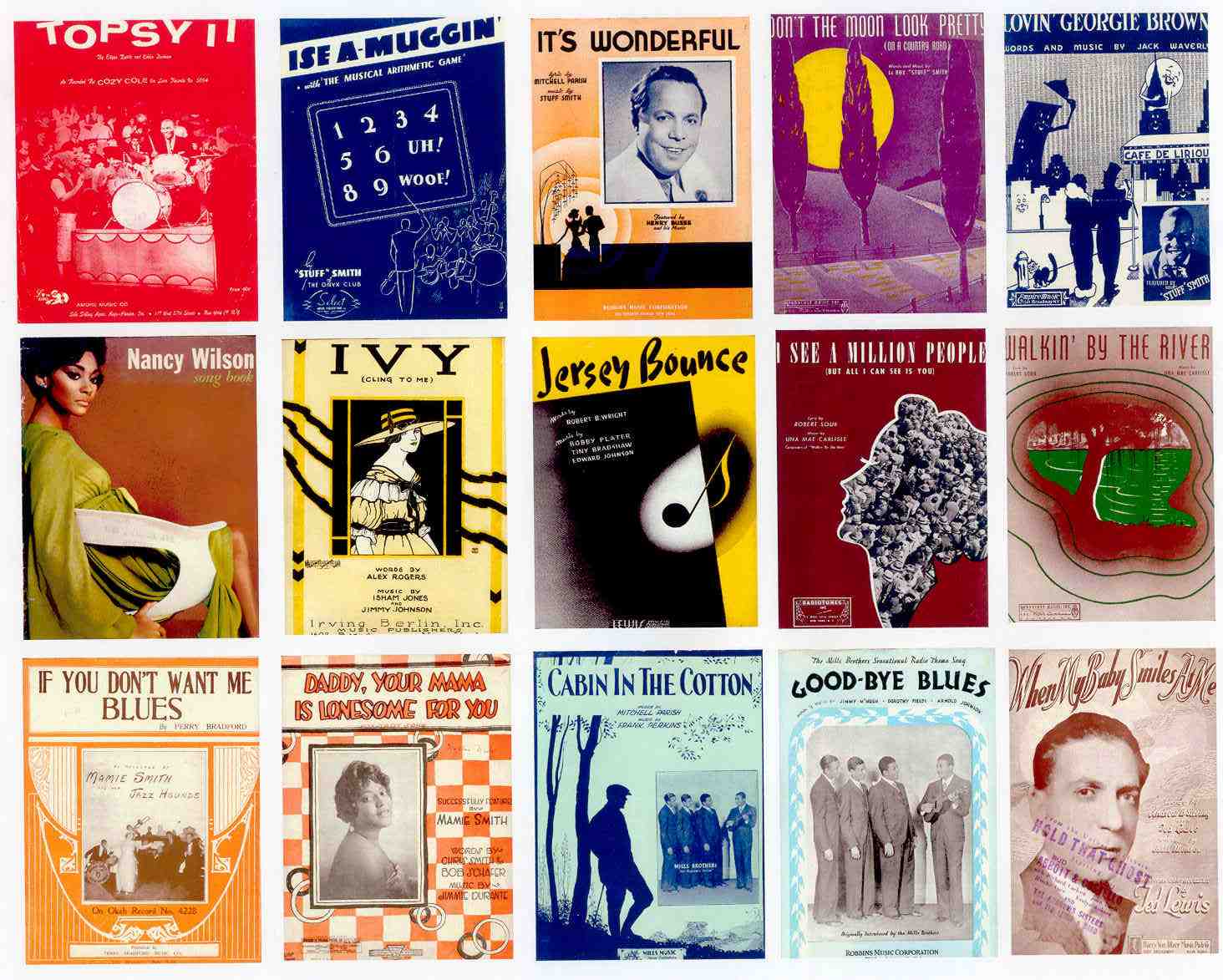 Representative Sheet Music from Ohio Atists and Composers
COZY COLE'S "Topsy" was a million-seller drum solo! Cozy lived and passed in Columbus, Ohio. STUFF SMITH from Portsmouth was a great composer and entertainer as well as a monumental fiddler! NANCY WILSON'S career started in Columbus; she was born in Chillicothe in 1937. James P. Johnson collaborated with ISHAM JONES (Coalton) for the music of "Ivy". TINY BRADSHAW co-wrote "Jersey Bounce" which became a hit for several swing bands. He was from Youngstown. UNA MAE CARLISLE from Cincinnati was an all-around performer, recording in the '30's to the '50's. Maybe the blues weren't born in Cincinnati, but the first recorded blues was from the Queen City's own MAMIE SMITH. Early MILLS BROTHERS recordings were jazz in harmony and "vocal instrumentals." They came from Piqua. TED LEWIS was not known for his jazz playing, but his band over the years kept many good jazz musicians eating during the depression. The "Maestro's" band included, at one time or another, George Brunis, Benny Goodman, Muggsy Spanier and Fats Waller!
A Short List of Ohio Related Albums
(LtoR,TtoB) An early 78 album by ART TATUM, Toledo.Grove City's BOBBY BYRNE was a trambone prodigy.TED LEWIS made "Everybody Happy" in Circleville, his home town. ISHAM JONES records were as popular in the twenties as his compositions. A defiant WILD BILL DAVISON hailed from Defiance. VIC DICKENSON was a great trombonist from Xenia. PEE WEE HUNT from Mt. Healthy visited Columbus many times with the Casa Loma. JIMMY MUNDY, (Cincinnati,) really swang! While SY OLIVER was born in Michigan, he called Zanesville and Columbus his home. Count Basie and Frank Sinatra both admired the great HARRY EDISON of Columbus. BILLY STRAYHORN from Springfield was the Duke's main man. BILLY BUTTERFIELD'S big horn blew out of Middletown. SIR CHARLES THOMPSON of Springfield was a keyboard king. JON HENDRICKS from Newark improvised vocals were called "Vocalese." BUD SHANK from Dayton played with Charlie Barnet and Stan Kenton. RUSTY BRYANT's Alto and tenor lit up the Columbus Night Club Scene, but he was born in West Virginia. JOHNNY LYTLE was one of many great instrumentalists from Springfield. RAHSAAN ROLAND KIRK could play many reed instruments, several of which he invented himself! McKINNEY'S COTTON PICKERS started in Springfield and became one of the great recording bands in the country. HANK MARR still plays his whatever off with the Columbus Jazz Orchestra